Curriculum design and reform
The launch of a new programme or conversion of a programme (prompted by a need in the professional field), offers excellent opportunities for a co-creative approach to the entire process and for taking proper account of the expectations of the professional field in the substantiation of the programme. Furthermore, it raises the exposure of the higher education establishment/programme to the professional field as a provider of education within the framework of lifelong learning.
In terms of curriculum design and reform, co-creation with the professional field can be structured around these three questions (based on feedback from Simon Beausaert):
What profile are we aiming for? What competencies should our graduates have?
What are our intended learning outcomes, given this profile?
What is the best way to achieve these learning outcomes? With what learning activities? What is the best location for the learning activities? What form of collaboration between the higher education establishment and the professional field does this require: alignment, incorporation or hybridisation?

Bouw, Zitter, & De Bruijn, IntegratiVE LEARNING ENVIRONMENTS AT THE BOUNDARY BETWEEN SCHOOL AND WORK, 2019
To ensure that the professional field is willing to participate in a co-creation process that pursues answers to these questions, it is important to construe a learning community around the programme that generates added value for all the partners.
Helpful steps in this process can be (based on the feedback from Simon Beausaert and Cormac Gebruers):
Give the professional field something in return for its efforts, for example, a conference to share new insights regarding evolutions in the sector or a platform for organisations, teachers and students to keep in touch. Create sufficient opportunities for informal contact when setting up such events.
Make it easy for the professional field to communicate with students and alumni.
Set up an official continuous feedback loop in order to be able to adjust the co-creation process based on your partners' responses. Invest in continuous relationship management. Expand your alumni policy from the day a student enrols in your programme. Approach students as colleagues/partners; have them act as ambassadors for the programme and serve as a liaison with the professional field. Provide programmes that trigger them to return to their alma mater once they have entered the professional field.
INSPIRATION
Model Edmonson en Harvey
Edmonson en Harvey (2018) bestudeerden grensoverschrijdende teams voor innovatie. Ze presenteren een model met een aantal factoren waarmee je rekening moet houden bij het werken in multidisciplinaire teams die gericht zijn op innovatie (Edmondson & Harvey, 2017).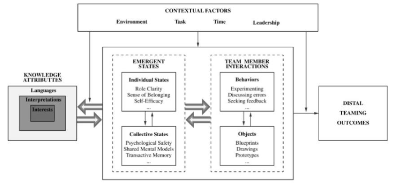 Multicam-project LUCA School of Arts
WORK-BASED LEARNING COMMUNITY
Thomas More
Skill Tree-methodiek LUCA School of Arts